Just Elementary, Inc. » Business Tips » Business Valuation & Negotiation Lessons from Shark Tank – Sweet Ballz – Lynnae's Gourmet Pickles – Postcard on the Run – Medical Social Media– Wicked Good Cupcakes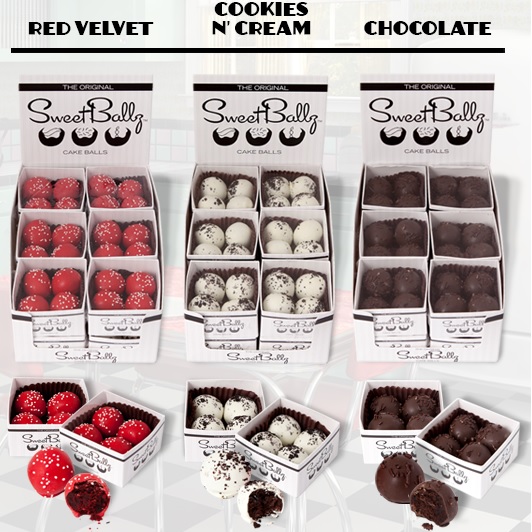 Preview: The season premier of Shark Tank features cake balls called Sweet Ballz.  Pitching Sweet Ballz are James McDonald and Cole Egger from Dallas Texas.  According to the Sweet Ballz website, a distribution deal was struck with 7/11 retail stores in March of 2013.  Sweet Ballz are listed in three flavors, Red Velvet, Chocolate, and Cookies N' Cream, which you can see to the left.  Sweet Ballz may get one or more sharks interested, as they already have a distribution deal with 7/11, which means that the company has production capacity in place and the credibility of already servicing a large customer.  This might already be a business too large in scale for Barbara Corcoran to compete in, so expect to see Kevin O'Leary interested.
Post Airing Analysis: Well, as it turns out, Sweet Ballz had all of the sharks interested.  The reasons that they were interested is that the business had already secured good distribution and had demonstrated strong sales.  All that the company really needed was a significant amount of additional working capital to scale to a much larger level of revenue.  The company did not need a lot of strategic or managerial help, which are the type of companies that high level investors like to avoid, because their time is better used being involved in well run companies.  Egger and McDonald had to choose from competing offers between Cuban/Corcoran versus O'Leary/Greiner/Herjavec.  They chose the Cuban/Corcoran team for reasons not well specified.  Herjavec at one point countered that having more sharks is better than fewer sharks.  More sharks can be a problem actually, since each shark investor has their own due diligence team and process.  So choosing three sharks would mean doing due diligence three times and having three different parties negotiate the final contract terms.  In this case, the fewer the sharks, the better.  Lesson Learned, the fewer investors involved means the simpler it is to finalize a deal in writing.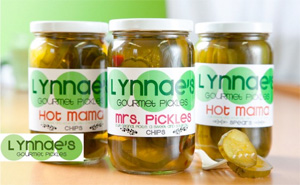 Preview: Lynnae's Gourmet Pickles is a business based in the great Northwest state of Washington.  Pitching Lynnae's Gourmet Pickles are Ali Cullinane and Lynnae Schneller, who hail from Firecrest Washington.  The company website lists the headquarters as Tacoma Washington.  The business claims that the pickling recipes that are used are 100 years old.   The business started in 2011, and offers gourmet pickles in three flavors, the original recipe flavor and a spicier version called the Hot Mama flavor and a third version called Doyle's Dills.  Expect to see Barbara Corcoran interested, if the business checks out.  Lynnae's Gourmet Pickles are available online at the company website, and at local grocery retail outlets in throughout select states in America.
Post Airing Analysis: Just like Sweet Ballz, Lynnae's Gourmet Pickles had secured distribution, though not as wide.  Two main differences were the level or revenue and the fact that Culliname and Schneller were not as experienced in food distribution.  The business was not large enough to get the sharks interested, nor did they feel that the duo was ready to significantly scale the business in a short timeframe.  Factor these two things in, and you have a good business for Cullinane and Schneller, but one that is too small with too long of a horizon to generate an quick enough of a return on investment for the sharks.

Preview: Also appearing in the Shark Tank to pitch a business is Josh Brooks of Postcard on the Run.  Postcard on the Run is a technology business based in Los Angeles.  Postcard on the Run allows users to send a photograph they have access to via their mobile phone as physically printed and automatically addressed and mailed postcard to a chosen recipient.  For example, you can take a photo on your phone then choose that photo with the Postcard on the Run application, choose a recipient and voila, the postcard is automatically printed and mailed for you.  The Postcard on the Run app is free, and there are different price points for postcards sent.  The app is available for iOS (iPhones), Android Phones, Windows Phones and Nokia phones.  Expect to see Kevin O'Leary, Robert Herjavec and Mark Cuban to have interesting takes on the business and business model.
Post Airing Analysis: Brooks accepted a deal from Robert Herjavec at a lower valuation than he was asking for.  Was this is a good or bad deal?  We'll find out as news trickles out.  We'll assume that a deal between Herjavec and Brooks did not get finalized.  Reasons for that assumption are that Due Diligence for the company would likely not justify what seemed to be a vanity offer for Herjavec.  As Cuban and Herjavec said, there was not a middle ground for PostCard on the Run, it was either go big, or go home.  For an in depth analysis about the smartphone app business model, LightSpeed Venture Partners has a great post you can read.
Getting an update segment on Shark Tank is Wicked Good Cupcakes from Cohasset Massachusetts.  Wicked Good Cupcakes is a mother daughter operation run by Tracey Noonan and Daniella Desroches. If you are craving some Wicked Good Cupcakes, and you live in or near Boston, you are in luck you can stop in and get some for yourself in person. For everybody else, the good news is that Wicked Good Cupcakes ships nationwide.  Kevin O'Leary made an offer was that was for no equity, but $1 royalty per unit sold in exchange for $70,000. Tracey Noonan and Daniella Desroches countered at 40 cents royalty, and they accepted Kevin O'Leary's counteroffer for 45 cents per unit royalty. This deal was decried on twitter as unfair to Tracey Noonan and Daniella Desroches for Wicked Good Cupcakes. On the surface of it, it is an unfair deal for the duo to take for Wicked Good Cupcakes. But, it's important to keep in mind that the deal terms are not final on the set. There is Due Diligence that happens after taping the segment, during which plenty of other terms are negotiated. Terms can easily be renegotiated during Due Diligence, or other party can walk away. Many shark tank deals have fallen apart and not been consummated after taping.  Since there is an update segment, expect some good news regarding the business.
Want to read recaps of previous Shark Tank episodes? Click here to see the entire collection episode recaps, all of them with business lessons you can take away from each pitch.
For More information on how Just Elementary, Inc, Business Brokers can help you with Valuation Matters & Negotiation Techniques for your business contact our Client Care Manager Sonia Chhabra at (888) 926-9193 or email cs@justelementary.com
Filed under: Business Tips · Tags: Lynnae's Gourmet Pickles, Patients Like Me, PatientsLikeMe, Postcard on the Run, Shark Tank, Sweet Ballz