Just Elementary, Inc. » Business Tips » Business Valuation & Negotiation Lessons Shark Tank RuckPack Aldo Orta Jewelry Tie Try Cork's Away Nearly Newlywed Wedding Dresses
Appearing on Shark Tank is Rob Dyer of Noots! Nutrition, LLC which has a subsidiary product called RuckPack.  RuckPack a single-source, power-packed vitamin & energy shot.  Rob Dyer received the inspiration to create RuckPack from his background in the Marines, specifically in the Special Ops division.    Rob Dyer's experience during active military deployment demonstrated to him that he needed an energy drink that was small in size and could deliver the results without caffeine, which can cause jitters.  Hence, Rob Dyer set out to formulate his drink called RuckPack.  The name RuckPack stems from the supplies pack that troops carry which needs to pack as many essential items as possible and be as light in weight as possible.   RuckPack is over 80% military service-member owned, which means that the company's sales and profits are going to people who have served America via the armed forces.  RuckPack aims to give back a minimum of 10% of profits to non profit organizations, and aims to give back up to 40% of profits as sales grow.  Rob Dyer impressed the Sharks with his focus and determination, which was forged by his Marine background.  Rob Dyer had gotten RuckPack to the point that there were there were demonstrated sales.  An offer came from Kevin O'Leary first for the RuckPack's asking terms which was $75,000 for 10%.  Given the fact that Rob Dyer did not have significant equity himself, that left Kevin O'Leary happy to take only 10% equity.  However, Robert Herjavec was also interested, so he teamed up with O'Leary to offer $150,000 for 20% equity, which Rob Dyer took.  Why did Herjavec and O'Leary invest in Rob Dyer's RuckPack.  Simple, they believed in his determination.  Investors want to know that the people they invest in will run over any obstacle to accomplish the mission.  Who better personifies that than a special ops marine like Rob Dyer.  Lesson Learned, if you are not willing to give it all to make the business succeed, investors won't hand over the money.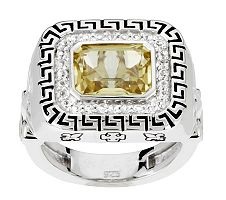 Aldo Orta of Aldo Orta Jewelry gets an update segment.  You may recall that Aldo Orta Jewelry from 2011 when it was pitched in the season finale of 2nd season of Shark Tank.  Aldo Orta struck a deal with Kevin Harrington & Barbara Corcoran during that appearance on Shark Tank.  It is important to note that deal struck was for only for a select portion of Aldo Orta's line of jewelry.  Aldo Orta Jewelry has appeared on QVC quite often, so it must be doing well.  We'll be curious to see what new updates there are to the Aldo Orta Jewelry collection.

For those people who have the problem of not enough neck ties, or not enough variety in neck ties, then Tie Try is a possible solution for them.  Tie Try is a service that offers a subscription service for people looking to have a new design of ties shipped to them.  Similar to a service such as the DVD by mail business model of Netflix or like coffee subscription service like MistoBox, Tie Try lets people have a variety of ties from the comfort and convenience of home.    Scott Tindle is the entrepreneur behind Tie Try.   Customers get new ties shipped to them as ties are returned to Tie Try.  Tie Try also has an option the let customers keep the ties they like by buying them.  The entrepreneurs behind Tie Try were a little early in the development of the company when they taped the segment.  At that they only had 110 customers.  They were at the beginning stages of proving their concept.  Since they hadn't fully proven the concept, they did not get an investment from the sharks.  Lesson Learned here is one we've seen in the past, when a company is too early in development, investors usually pass, as they want to place their money in lower risk situations, which up their odds of generating a return.
Long Beach California Based Cork's Away Wine Adventures is pitched on Shark Tank by Captain Nathan Buffet and Shane Cianciolo.  Cork's Away Wine Adventures is a leisure cruise that features wine and appetizers for private parties that are held on board a ship.  Corporate parties, Evening Sunset parties, etc are the type of fun bookings that people can have with Cork's Away Wine Adventures.  Currently, the business operates out of one location, so while it might be too small for the Sharks to invest in, it certainly will be fun for people in the Los Angeles area for parties with Cork's Away Wine Adventures.  The main issue that prevented the Sharks from investing in Cork's Away Wine Adventures was the fact that the business plan wasn't focused enough for an investor's appetite.  Lesson Learned while an entrepreneur can be more ambitious and take more risks, investors are more risk averse, as they only seek a return on their investment and not the realization of a dream.   Have simple plan for profit, so an investor can gauge a quick return on their money.  If you have bigger dreams, stay privately held and do your thing.

Jaqueline Courtney appears on Shark Tank to pitch her business called Nearly Newlywed.  Nearly Newlywed is a business that sells used wedding dresses to brides who want more bang for their buck.  Nearly Newlywed also buys back dresses, which helps brides afford more expensive dresses.  The great thing about Nearly Newlywed is is gives brides the ability to have a nicer dress for their wedding.  An alternative to selling back a wedding dress to Nearly Newlywed is to consign the dress to the company.  This is good for Nearly Newlywed in that it doesn't require the business to outlay significant cash for the inventory, and it allows the bride the chance to recoup more of the original price paid for the dress.  Nearly Newlywed also has a partnership with Kleinfeld.  Jaqueline Courtney proved herself to be a sharp entrepreneur who had created the business from scratch.  The Nearly Newlywed business was also in its early stages of development at the time of taping, however, it was proven enough to generate an offer from Kevin O'Leary that was for much more equity than Jaqueline Courtney was willing to give away for Nearly Newlywed.  With that Jaqueline Courtney walked away from the Shark Tank without a deal for Nearly Newlywed.  Lesson learned here is that if you are still establishing the company, but on the right track, feel emboldened to turn down giving away significant equity while you are building it up as long as you are willing to see it through
Curious about what you can do to increase the value of your business, read and/or watch the video in this post for what we have come across in marketing businesses for sale.
Want to read recaps of previous Shark Tank episodes? Click here to see the entire collection episode recaps, all of them with business lessons you can take away from each pitch.
For More information on how Just Elementary, Inc, Business Brokers can help you with Valuation Matters & Negotiation Techniques for your business contact our Client Care Manager Sonia Chhabra at (888) 926-9193 or email cs@justelementary.com
Filed under: Business Tips · Tags: Aldo Orta, Cork's Away Wine Adventure, Nearly Newlywed, RuckPack, Shark Tank, Tie Try