Just Elementary, Inc. » Business Tips » Interview with Puppy Cake Founder Kelly Chaney As Seen on ABC's Shark Tank
Entrepreneur Kelly Chaney of Pittsburgh Pennsylvania was kind enough to sit down and answer questions about the growth that she and her company have experienced since taping and appearing on ABC's Shark Tank.  If you are interested in ordering Puppy Cake, you can find it in Retail Stores, the Puppy Cake Website and on Amazon.
Just Elementary: How long were you actually in front of the Sharks?
Kelly Chaney of Puppy Cake: I wish I could remember how long I stood in front of them. I estimate it was about 15 minutes. I found myself remembering things that happened in the tank weeks after filming.
Just Elementary:. Was the edited version on T.V. close to what really happened?
Kelly Chaney of Puppy Cake: For me, what was portrayed on TV was very close to what actually happened.  The order that the sharks went out was a little different with Daymond John being the last one out. Some funny things happened that weren't shown.  Robert Herjavec actually got out of his chair and gave his glass of water to Minnie, the dog.  She also got distracted by a fly and started chomping at the air.
Just Elementary: Was there anything edited out that you would like America to know?
Kelly Chaney of Puppy Cake:  I had some pretty sensational stats about the business that were edited regarding how in the first year I grew 250%, spent almost nothing on advertising, got to be number one on google and how I was doing all of this part time.
Just Elementary: Before you went on the show, did you have anyone do a professional Valuation of your business? How did you decide how much to ask for?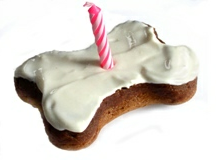 Kelly Chaney of Puppy Cake: I did not have a professional evaluate my company before I went on the show. I asked for $50k for 25% and I think that I was asking too much at the time. Now, I feel it is an accurate valuation.
Just Elementary: You mentioned your biggest weakness is making cold calls… after the show did you make the call to Uncle Jimmy's Brand Products or did they contact you? Would you say you have overcome your weakness?
Kelly Chaney of Puppy Cake: When I was going through the process for Shark Tank, I was negotiating my licensing deal with Uncle Jimmy's Brand Products, something that I was upfront about with the producers.  We connected through a mutual friend, to put it simply.  After I filmed for the show and returned to Pittsburgh, I signed the deal with Uncle Jimmy's Brand Products.  In regards to my weakness, I am so much braver and am enlightened to the fact that it was my emotions that were holding me back from doing cold calls and nothing else. I have vowed to not let my emotions drive my business; rational thought and strategic planning will drive it.
Just Elementary: Have you started distributing the product through any retail stores mentioned in the press release?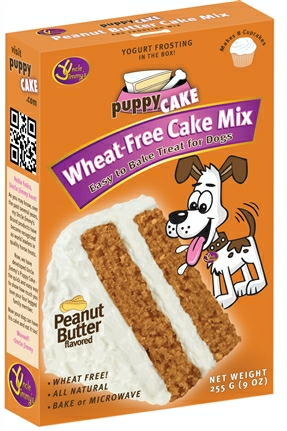 Kelly Chaney of Puppy Cake: Puppy Cake is in several hundred new stores and we are a few meetings away from being in some very large retailers, including a high end grocery store. As soon as these customer place their first order, we will be announcing from the roof tops, until then, I want to be discreet about who I am negotiating with at this time.
Just Elementary: How many boxes of Puppy Cake have you sold since the show aired?
Kelly Chaney of Puppy Cake: My goal after the show was to sell 10,000 boxes and we are very close to that. If you wait a few more days, I will have a sales report hot off the press that I am happy to share with the world. (NOTE: This was asked less than 2 months after the episode aired)
Just Elementary: Are you planning to add any other products to your line?
Kelly Chaney of Puppy Cake: I am definitely planning on adding new products to the line. I have one product that is currently in the branding stage, as we are developing the packaging, another product has a logo and a name, but needs some tweaks to meet retailers needs of a longer shelf life. I made a few attempts at a cake for cats, but as I got mediocre responses, I decided to go with my gut and cancel the project. There was just very little evidence that supported the notion of a cake for cats as cats are carnivores. If I can't create the very best product, I am not going to add it to my line.
Just Elementary: You wrote on your blog that you created and worked on your pitch on your own…after going through the experience, would you recommend others to get a Coach to help prepare them for the negotiations and discussions with the Sharks? Especially those approaching a Shark for the first time? Do you think that would have been beneficial for you?
Kelly Chaney of Puppy Cake:  Everyone is different when it comes to negotiating. I am very competitive and I like to be challenged, so the atmosphere of the tank was a place where I thrive. I know that one of my fellow contestants panicked and did not go on, but sent his partner instead. It was just too much pressure for him.  In that instance, a coach may have been beneficial for that person. Generally speaking, I think coaches can be a huge asset for an entrepreneur. I personally explored the idea of adding a coach well after my episode aired. I don't think the outcome would have been different. The sharks were not dog people and I knew they would struggle to see themselves using it.
Kelly Chaney of Puppy Cake: Here is some Sensational info: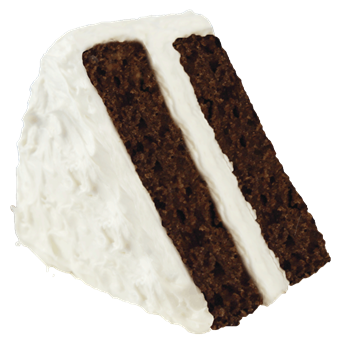 A. Order every 20 seconds starting from the moment the show ended.
B. Went from selling 5,000 boxes in 2011 to selling nearly 5,000 boxes a month after Shark Tank.
C. Had over 1,000 emails by 6:30 AM the next day
D. Featured in InTouch Weekly
E. Received 18k unique visitors to the site the night of airing
I have had some personal successes: I have written one young adult novel and am working on a business oriented book: "Hard Questions for New Entrepreneurs: the 60 Minute Guide to Determine Whether or Not You Should Start a Business" which generated interest from several literary agents before I even wrote the outline. I am furiously trying to finish the proposal while balancing my responsibilities at Puppy Cake. It has been really fun to write!
If you are interested in ordering the product, you can it on Amazon, in Retail Stores, and the Puppy Cake Website.
It's great to see that Kelly Chaney has grown Puppy Cake sales by wisely utilizing the National Television Exposure from Shark Tank and by being a quick learner with how the Retail Industry works.
To read more about the segment of Shark Tank that she appeared in, read the original post about the episode she starred in.
You can follow Puppy Cake on Twitter (@PuppyCakeLLC) and on Facebook.com/PuppyCakeMix
For More information on how Just Elementary, Inc, Business Brokers can help you with Valuation Matters & Negotiation Techniques for your business contact our Client Care Manager Sonia Chhabra at  (888) 926-9193 or email cs@justelementary.com
Filed under: Business Tips · Tags: Kelly Chaney, Puppy Cake LLC, Shark Tank, Uncle Jimmy's Brand Products