Just Elementary, Inc. » Business Tips » Shark Tank Business Valuation & Negotiation Lessons Kitchen Safe Time Locking Containers, Earthlog, Magic Cook, Off the Cob Chips & Tipsy Elves Ugly Christmas Sweaters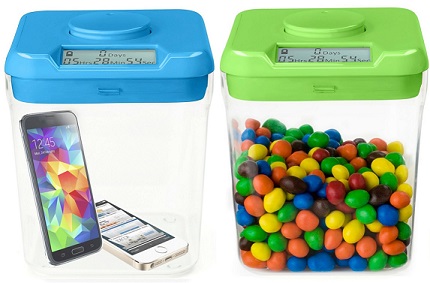 Tasty junk food is hard to resist.  An entire package of cookies, candies or chips can disappear in one sitting, even if they are meant to last much longer.  Aiming to rectify this problem are David Krippendorf and Ryan Tseng.  The duo pitch the Shark Tank a product called Kitchen Safe.  Kitchen Safe is a food storage jar that has a locking lid that is operated with a timer.  Set a timer and the container can't be opened until the timer goes off.  This is a great food portion control device.  Expect Lori Greiner to be interested in this business.  But, the uses for the Kitchen Safe aren't limited to food, it can also be used to hide away mobile phones, keys, toys and any other object that can fit.  The Kitchen safe launched in 2013, so expect to hear David Krippendorf and Ryan Tseng pitch the sharks for capital to grow the business.
No fire, no electricity, no gas, no problem!  Sharon Yu pitches her line of portable cooking containers called Magic Cook to the Shark Tank.  Magic Cook cooking containers do not need batteries, electricity, gas or an open flame to cook food.  Instead, Magic Cook cooking containers use a heat pack to boil water which is used to heat an inner container that stores the foods.  Sharon Yu says that Magic Cook can cook a frozen item in approximately 25 minutes.  That obviously depends on the size of the frozen item(s).  The Magic Cook containers are handy for camping and other outdoor activities, but can also be very handy in emergency situations such as natural disasters or even more ordinary ones in which electricity and gas are disabled.  Magic Cooks are sold online, so it's possible that Sharon Yu is looking for capital and connections to get into retail distribution.  Expect Lori Greiner to be very interested.

Applying the build a better mousetrap theor

y to fire logs is Tom Sanetti from Huntington Beach, California.  Sanetti calls his product Eathlog.  Earthlogs are made of recycled paper and candle wax instead of wood.  Sanetti says Earthlogs are more environmentally favorable over wood logs because they create less smoke while generating more heat.  Earthlogs are also available in scented varieties, which allows the product to appeal to more consumers.  Additionally, there is a citronella version for insect repelling.  Sanetti has grown the company well, and secured retail distribution in big name retailers such as 7-11.    Earthlogs are made in America, at the company's production facility in Huntington Beach.  The sales should be in place for the sharks to be interested, so an investment from the Sharks should hinge on the business valuation that Sanetti asks for.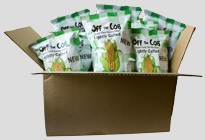 Pitching a snack product to the Shark Tank is Cameron Sheldrake.  Sheldrake's product is called Off the Cob Tortilla Chips.  Sheldrake says that Off the Cob Tortilla Chips are a natural corn tortilla chips.  Focusing on quality ingredients is a selling point for the product, as such Sheldrake says that his products only ingredients are sweet corn, certified organic GMO free yellow corn, certified organic GMO free white corn, expeller pressed sunflower oil, cane sugar and sea salt.  Sheldrake launched Off the Cob in the upstate New York area, but has since secured retail distribution in other areas.  Will the sharks like the taste of Off the Cob Corn Tortilla Chips enough to want to invest?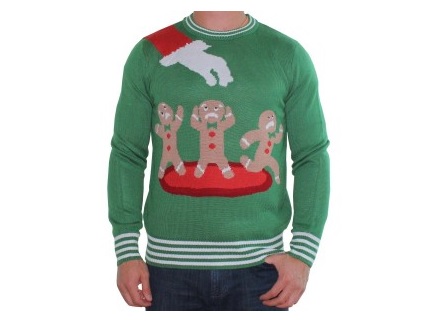 Getting the Shark Tank update segment is Tispy Elves.  Tipsy Elves are a modern take on the 'ugly' Christmas Sweater.  Tipsy Elves sells sweaters for men and women as well as sweaters for pets & inanimate objects, beanies, neck ties and fanny packs. The company was wildly successful and garnered a lot of interest from the sharks.  This is a well timed update since it is Christmas season.   Despite the obvious connection to Daymond John, the founders of Tipsy Elves ended making a deal with Robert Herjavec.  A lot of the appeal for Herjavec was that this was a successful company and the he didn't want to miss out on the action.  Obviously, we'll expect to hear some eye popping numbers in regards to the revenues, but it will be interesting to see if the company has expanded its offerings.
Want to read recaps of previous Shark Tank episodes? Click here to see the entire collection episode recaps, all of them with business lessons you can take away from each pitch.
For More information on how Just Elementary, Inc, Business Brokers can help you with Valuation Matters & Negotiation Techniques for your business contact our Client Care Manager Sonia Chhabra at (888) 926-9193 or email cs@justelementary.com
Filed under: Business Tips · Tags: Earthlog, Kitchen Safe Time Locking Containers, Magic Cook, Off the Cob Corn Tortilla Chips, Tipsy Elves, Ugly Christmas Sweaters