Just Elementary, Inc. » Business Tips » Shark Tank Business Valuation & Negotiation Lessons – SkinnyShirts, Bantam Bagels, Coffee Meets Bagels, Doorman & Hamboards Update
The market for apparel items that shape and slim the body is obviously very large, as shown by the huge success that Spanx is.  Pitching the Shark Tank an shaping and slimming line of apparel is Julie Kalimian.  Kalamian calls her line of clothes Skinny Shirt.  Skinny Shirt shirts are combination of a collared shirt up top with a body of cami.  So the bottom portion of the shirt which covers the abdominal area is snug to the body, which means another item can be worn on top, such as a sweater with minimal bunching.  This a way to layer while minimizing the bulkiness of the appearance.  A clever concept.  Kalamian is a veteran of the magazine marketing business, so she likely leveraged good contacts to get some good magazine press for her Skinny Shirt clothing line.  Will there be sales strong enough to match the publicity and to get the sharks interested?  No Daymond John on this episode, so a deal may had with Barbara Corcoran or Lori Greiner.  Kalamian founded Skinny Shirts in 2010.
Bagels are tasty, but dry, which is why many prefer cream cheese with their bagel.  Putting that into one package are Nick and Elyse Oleksak from New York City.  They sell a mini bagel bite that is filled with cream cheese.  They call their business Bantam Bagels, they sell out of a retail location in New York City's West Village.  They also sell Bantam Bagels online.  The couple may be looking to franchise, or open new company owned locations themselves.  We'll see what they come pitch the sharks for and if the sharks buy their vision for growth and profits.  Perhaps they will want to sell these through grocers.  They have a lot of expansion possibilities, so expect to hear the sharks give their opinion for the best path forward to make more money out of Bantam Bagels.

Tinder is a popular dating app for smartphones, but one that has a certain connotation for 'hooking up'.  Pitching a dating app that is meant for serious connections are three sisters Arum, Dawoon & Soo Kang from San Francisco, CA.  Their dating app is called Coffee Meets Bagel. The app works by delivering a potential match to the users smartphone once a day at noon.  The two people being matched have to both accept the match to be able to schedule a get together of their choice.  Coffee Meets Bagel users and fans on twitter are adamant that they like it because it keeps things simple, one decision per day and has a community geared to long term relationships.  The Coffee Meets Bagel app is available for iOS and Android devices.
Getting packages delivered to your home is convenient, except for when you are not home to sign for it, or if your package is stolen.  There are services that deliver packages to 'lockers' that you can pick up packages from.  But pitching a service that will deliver a package inside a time window of your choosing is Zander Adell.  Adell calls his business Doorman.  What his service will do is pick up your packages for you from all of the major delivery services and white glove deliver it to you at your schedule, after or before normal delivery hours.  The packages would be delivered to a Doorman warehouse, where it is then dispatched to the customer as the customer requests.  Doorman currently delivers from 6 AM to midnight.  Doorman has varying membership packages, with a premium membership that promises delivery inside of a one hour window.  Doorman is currently in operation in and around the San Francisco area.  Doorman can be used on as needed basis at $3.99 per package.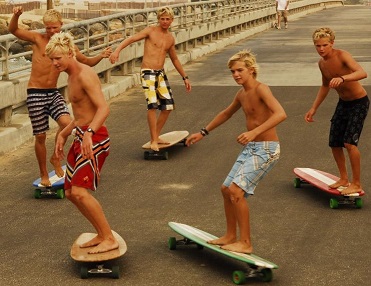 Getting the shark tank update segment is Hamboards.  You may recall that Hamboards are giant skateboards that are surfboard sized.  The Hamborg family from Huntington Beach pitched the Hamboards to the sharks.  Most of the sharks were interested, but Robert Herjavec couldn't resist the 'cool' factor so he made a deal with the Hamborgs.  The Hamboard is a large form skateboard that simulates the feeling and workout of surfing on dry land.  The picture does the product some justice, certainly Hamboards look like fun, especially in some summertime sun. The Hamborg family runs a shop in Huntington Beach, California, which is nicknamed as Surf City USA.  We'll see if they have expanded retail operations, but likely we'll expect to hear that they have expanded connections with distributors nationally and internationally.
Want to read recaps of previous Shark Tank episodes? Click here to see the entire collection episode recaps, all of them with business lessons you can take away from each pitch.
For More information on how Just Elementary, Inc, Business Brokers can help you with Valuation Matters & Negotiation Techniques for your business contact our Client Care Manager Sonia Chhabra at (888) 926-9193 or email cs@justelementary.com
Filed under: Business Tips · Tags: Bantam Bagels, Coffee Meets Bagel, Doorman, Hamboards, Shark Tank, Skinny Shirt