Just Elementary, Inc. » Business Tips, Business Valuation, Negotiation » Shark Tank Tricky Business Valuations & Profit Margins
First up on ABC's Shark Tank is Last Lid (@LastLid).  The proprietors of Last Lid are Melissa and Kevin Kiernan of Waldwick New Jersey.  Their product is a fabric lid that covers outdoor garbage cans, and prevents them from being tampered with by animals.  The Kiernans have a problem where their garbage cans are frequently tipped over by raccoons and other foraging animals.  After finding no suitable replacement at local hardware stores, the Kiernan's developed their product.  Robert Herjavec and the other Sharks got a good laugh out of product, and the early reviews on Twitter were unflattering for the product, calling the product pointless and a flop.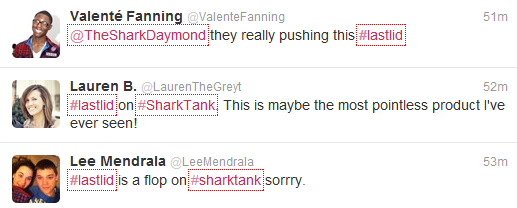 However, note the first tweet in the image above, and you will see that the Kiernan's are energetic salespeople for themselves and their product.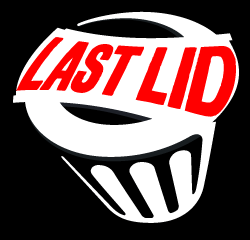 To the surprise of a lot of people, the Kiernan's got a deal with Daymond John.  We of course, don't know if a deal was actually finalized after the taping of the show between Daymond John and the Kiernans of Last Lid.  Why was Daymond John interested?  Branding play, pure and simple.  These fabric lids can have  branded logos of all sorts on them such as Sports Teams.  As evidenced by Daymond John's interest in PowerDecal, anywhere there is space to display a brand logo, is an opportunity to sell a product at a premium and make a profit with the higher margins.  Also, the Kiernans have an important factor in their place, and that is the energy and drive to the see the process through, which is essential as the Sharks are not there to lead the horse to water, only to provide the water in the form a capital when needed along the way.
LESSONS LEARNED: Give your product an angle for branding to give consumers one additional reason to purchase when they might otherwise pass.  Also, have the hustle and drive to see a product through to the finish, investors like to see that they will partner with go-getters.
Update: See the comment section below.  The Kiernans have been working with Daymond John since the taping of the show.  Daymond John even makes a cameo appearance in the embedded video on the Last Lid Homepage.  One more lesson, don't let derision and hate from people hold you back, a lot of great inventors were mocked before their products hit the mainstream.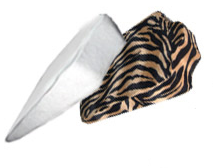 Second up on the Shark Tank is Ledge Pillow by Amanda Schlecter.  Ledge Pillow got a lot of smiles and attentions from the Sharks and from Shark Tank followers on Twitter.  The ultimate conclusion to the segment that the market for the product was too small.  Also, Amanda Schlecter told the Sharks that she had only sold 83 units since 2008.  The bigger issue behind that for Sharks was that Amanda Schlecter did not seem to have the same sales drive and passion as Melissa and Kevin Kiernan of Last Lid are.  So the Sharks all passed on Ledge Pillow and Amanda Schlecter.
LESSONS LEARNED:  Also, have the hustle and drive to see a product through to the finish, investors like to see that they will partner with go-getters.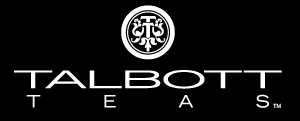 Third up in the Shark Tank was Talbott Teas (@TalbottTeas), a specialty premium tea brand based of Chicago Illinois.  Again, this was another product that elicited shock from Shark Tank Followers on Twitter.  Shane Talbott & Steven Nakisher are the owners of Talbott Teas.  Shane Talbott & Steven Nakisher came in asking for $250,000 in exchange for 20% Equity in their company ($1,250,000 valuation).   2009 Gross Sales were approximately $100,000 and 2010 Gross Sales were approximately $350,000.   What has the Sharks interested is that Shane Talbott & Steven Nakisher have done $500,000 in 20011 Year To Date Gross Revenues as of the time of taping for Talbott Teas.  Kevin O'Leary clarified that the stated Profit of 50% was actually Gross Profit, not Net Profit.  When O'Leary said that he didn't like the business valuation, it is hard to argue with him, as standard business valuations are primarily based on NET Profit, not Gross Profit or even Gross Sales.  Net profit was estimated by the Sharks to be $100,000 to $150,000 for Year End 2011.
Given that Talbott Teas had strong sales, notoriety through Oprah and QVC appearances, it was clear that it would have some interest from the Sharks.  Kevin O'Leary, however, was the only one who made an offer, all the other Sharks had various reasons to not bid.  Thus, this turned out to negotiations in which the duo of Shane Talbott & Steven Nakisher did not have a whole lot of leverage.  While Kevin O'Leary initially bidded $250,000 for 40% equity, Shane Talbott & Steven Nakisher countered back at $250,000 for 30%, which sounds like meeting halfway in the middle, though it really isn't.
$250,000 for 20% Equity = $1,250,000 Valuation  (Original Asking)
$250,000 for 30% Equity = $833,333.33 Valuation (Supposedly Meeting Halfway)
$250,000 for 40% Equity = $625,000 Valuation  (Kevin O'Leary's Initial Bid)
Halfway between the Original Asking ($1,250,000) and Kevin O'Leary's initial bid ($625,000) is a Valuation of $937,500!  In case you are wondering how that is: The difference between the two valuations is $1,250,000-$625,000 = $625,000.  Dividing that difference in half = $312,500.  Add $312,500 to the lower valuation, OR subtract $312,500 from the higher valuation and you end up at the true 'Meeting in the Middle' Valuation of $937,500.
Doing math in absolute percentages is tricky because it sounds halfway, but it isn't.
Lesson Learned:  Do the Math, or hire a professional who knows his or her Valuation Math!

PS: Shane Talbott & Steven Nakisher of Talbott Teas walked away with a deal from Kevin O'Leary for $250,000 for a 35% equity stake ($714,285.71 Valuation) .  Ever wonder what happens to some of the deals struck.  Often times, the Sharks Make the investment with an Exit Strategy in mind.  In this case, Talbott Teas was sold off to Jamba Juice.  If you visit the Talbott Teas website, you can watch an embedded video in which Shane Talbott ,Steven Nakisher and Daymond John announce that they have sold Talbott Teas to Jamba Juice.  This brings up an interesting point, which we covered in the review of the previous episode, and that is that no deal between the Sharks and the entrepreneurs is finalized on the set.  The deals are only finalized at a later date after some due diligence is performed by either side and actual terms of a contract are put into writing.  In this case, Kevin O'Leary got Daymond John involved, and the four of them sold the company to Jamba Juice.
Last up in the Shark Tank was Snaps Caps of M3 Girl Designs.  Snaps Caps are the invention of Maddie Bradshaw, the older daughter of the family Trio that appeared on the episode.  They are cute magnetically backed bottle caps with fantastic designs in them.  The Bradshaw family has been selling these Snaps Caps for a few years to a high degree of success.  The Snaps Caps product has boasted total historical sales of $5,000,000 up to the point of taping.  In addition to the Snaps Caps, there was a recently launched line of Jewelry in 2009 that has boasted sales of $1,600,000.

Clearly the family is onto a fantastic trend, and the Sharks are all interested.  The only Shark that is out is Daymond John, and only because he feels that the other Sharks can bring more value to the table as investors & mentors to the Bradshaw kids.  Lori Greiner was quick to sell her QVC background and female entrepreneurs to the Bradshaw Kids and mother.  Lori Greiner quickly joined Kevin O'Leary's initial offer, but was lured into abandoning O'Leary and joining forces with Mark Cuban.  Robert Herjavec also joined the fray and joined forces with Kevin O'Leary.  However, it was clear that the Bradshaws favored doing a deal with Cuban and Greiner, so Herjavec joined that group and they made a combined offer for $300,000 for 30% ($1,000,000 Valuation) of the company, which is significantly less than the Bradshaw's came in asking for which was $300,000 for 15% equity ($2,000,000 Valuation).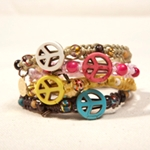 Since the Sharks were hot to get in the action of Snaps Caps of M3 Girl Designs, the Bradshaws held some leverage, especially with Kevin O'Leary still interested in investing. However, they did not make a strong attempt to use their leverage, so they made a soft ask for $300,000 for 20% equity ($1,500,000 Valuation).  Since their ask wasn't strong enough, and they made it clear that they were not considering Kevin O'Leary, they gave in and accepted the $1,000,000 Valuation that Mark Cuban, Robert Herjavec and Lori Greiner offered.  In the on camera interview after leaving the set, the Bradshaws exclaimed how they were so pleased that the got an offer they took.  Which in the end will probably turn out real well for them, but they probably didn't realize that they only got HALF of what they asked for.  Sounds strange to be happy about getting half of what you asked for when you are established company with real revenues and distribution.
Lesson Learned here, don't forget to use leverage in negotiations when you have it.  Otherwise you may end up with much less than you realize, in this case HALF.  Get a Proper Valuation.
For More information on how Just Elementary, Inc, Business Brokers can help you with Valuation Matters & Negotiation Techniques for your business contact our Client Care Manager Sonia Chhabra at  (888) 926-9193 or email cs@justelementary.com
Filed under: Business Tips, Business Valuation, Negotiation · Tags: Daymond John, Kevin O'Leary, Last Lid, Ledge Pillow, Lori Greiner, M3 Girl Designs, Mark Cuban, Robert Herjavec, Snap Caps, Talbott Teas