Just Elementary, Inc. » Commercial Leasing » Triple Net (NNN)?, CAMs? & Gross Leases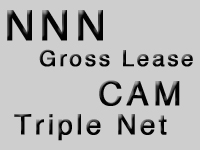 What does a Gross Lease entail, what are exactly are Triple Nets (NNN), and what about CAM charges in Commercial leasing?
Let's start with a Gross Lease. Gross Lease means a lease that has no additionally itemized charges for the operating expenses of the commercial property.  This lease offers a simple and predictable periodic lease payment for a lessee (tenant). Gross leases are common in Industrial properties and other properties that have less maintenance and operating costs such as single occupant commercial properties.  The only big variable that arises in these lower maintenance properties tend to be property taxes.  This leads us to modified gross leases, which have one of more of the operating expenses passed on to the lessee.
Triple Net, NNN, refers to the three widely accepted categories of operating expenses for commercial properties, which are each of the 'Nets' (N): Taxes, Maintenance and Property Insurance.  Thus, in a pure Triple Net, NNN, lease the lessees (tenants) pay all of the operating expenses for the property in addition to a Base Lease Rate for the property.  Triple Net leases are common in Retail properties, and other propeties in which there are Common Areas to maintain.   What you need to keep in mind is that all property related expenses are typically bundled in NNN, Triple Net, charges, including the expense for a property management company.  With all expenses typically covered by the lessees, Triple Net, NNN, leases are very popular among Retail Center investors.   This is because the properties on Triple Net, NNN, leases provide a predictable return based on the total base rental income from the lessees.  Along with all regular expenses, sudden and unusual expenses are also typically passed on to the tenant.  Triple Net, NNN, leased properties are also handy to market properties for sale, as the prospective buyers can review the property and have a clear understanding of the expected return on investment.
Commercial properties, especially multi tenant retail centers have Common Areas.  Common Areas would typically be shared hallways, parking lots, patios etc.  Common Area Maintenance (CAM) charges are essentially the 'Maintenance' 'N'  of the Triple Net, NNN.  Even though CAMs represent only one of the N's, it does get used interchangeably with Triple Net NNN.  So, keep in mind that when you are being quoted CAM charges, it may or may not be all of the additional charges beyond just the basic base lease rate of the property.
Obviously, negotiating a Gross lease sounds favorable to accepting a Triple Net Lease.  But, keep in mind that most retail properties are exclusively leased on Net terms.  Some of the problems that a Triple Net lease poses are the unpredictability of sudden maintenance expenses, sudden increase in Property Tax expense, such as when the property is sold.  When there are sudden increases, they are usually passed on in lump sum format, which can affect working capital for a business owner.
For More information on how Just Elementary, Inc, Business Brokers can help you with Negotiating Your Retail Commercial Lease for your business contact our Client Care Manager Sonia Chhabra at  (888) 926-9193 or email cs@justelementary.com
Filed under: Commercial Leasing · Tags: CAM, commercial, Common Area Maintenance, Gross, industrial, Lease, NNN, Retail, triple net