Just Elementary, Inc. » Business Tips » Shark Tank Business Valuation & Negotiation Lessons Lumi Photo Transfer Kit, Sseko Designs, Boobypack, Gold Rush Nugget Bucket & Paint Brush Cover Update
Do it yourself kits are always popular with folks who want to get creative and express themselves. Pitching a unique solar powered kit to transfer photos to t shirts and other fabrics is Jesse Genet. Genet's business is called Lumi. What Lumi is a kit that is available in multiple dye colors and simply requires exposure to direct sunlight to effect the transfer. The transfer takes ten to thirty minutes depending on how bright the sun is. The Lumi kits come with the dye ink and instructions on how to print a negative which blocks the sunlight to allow only the desired image to print. Lumi was started as a Kickstarter campaign and his since grown to significant retail distribution in places, so expect the sharks to be intrigued by the revenue. Guessing here that Robert Herjavec will be highly interested in investing in Lumi.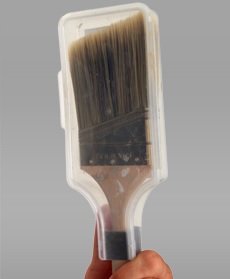 Getting the Shark Tank update segment is the Paint Brush Cover is one of those no-brainers.  Three partners, Sal DePaola, John DePaola, and Anthony Caputo are the trio behind The Paint Brush Cover.  The Paint Brush Cover was an easy to understand product, which meant it would display well on retail shelves.  Lori Greiner deemed it a hero, as she saw a lot of potential in the product.  The name of the product aptly describes it. as it is a cover for a paint brushes that allows them to be stored wet with paint and not have the brush dry out and ruin the brush hairs.  The Paint Brush Cover is useful in situations when a painting project is interrupted for a period of time.  The Paint Brush Covers are airtight and see through, so if there are multiple brushes being covered, it is easy which brush is which.  You may have seen the Paint Brush Cover at your local hardware store, and now the trio have rolled out a cover for foam paint rollers.  The trio made a deal with Lori Greiner for a $2,000,000 valuation.  Expect Lori and the trio to be very happy with their partnership.
Sseko Designs gets pitched on Shark Tank by Liz Bohannon. Sseko designs is an apparel company that sells products designed and made in Uganda by women. Bohannon was inspired to start the business when she was working in Uganda. Bohannon saw that there women who were struggling to get ahead in life, so she wanted to help them by employing them. The goal of Sseko designs is to help the employees in Uganda be able to afford college. This is a big selling point of the company. Sseko designs offers a line of sandals and some accessories. Sseko designs are sold on their company website and in select boutiques. Naturally there will be some input from Daymond John on the business, and he may be interested in investing if it makes sense somehow, and not even financially, but perhaps in a mentoring situation as he has done in the past.
When on the go, it's not always handy to carry around a purse to keep a phone, money and other personal effects handy. So CC Conrad took things into her own hands and invented the Boobypack. The Boobypack is like a fanny pack, but in a bra or crop top. Since Conrad was active and on the go, using a bra to store her phone and other items wasn't working well for her. So she created her line of bras and crop tops with a built in water proof pocket. The boobypack are only sold online at the company website, so expect to hear Conrad pitch the sharks for working capital and help with getting into retail.
Besides being financially valuable Gold is also a powerful allure to dreams of wild riches. Despite the huge gold rush in the 19th Century, there are still gold hunters working rivers and mines. Enter Mark Peterson who pitches his gold panning kit called the Gold Rush Nugget Bucket. Gold Rush Nugget Buckets contain an selection of screens, funnels and pans to cull gold from river water. Gold Rush Nugget Buckets are made in the USA. Expect to hear some negative talk from Mark Cuban are gold prospecting, but if the numbers make sense Kevin O'Leary just might be interested in investing in Gold Rush Nugget Bucket.
Want to read recaps of previous Shark Tank episodes? Click here to see the entire collection episode recaps, all of them with business lessons you can take away from each pitch.
For More information on how Just Elementary, Inc, Business Brokers can help you with Valuation Matters & Negotiation Techniques for your business contact our Client Care Manager Sonia Chhabra at (888) 926-9193 or email cs@justelementary.com
Filed under: Business Tips · Tags: BoobyPack, Gold Rush Nugget Bucket, Lumi Photo Transfer, Paint Brush Cover, Sseko Designs