Just Elementary, Inc. » Business Tips » Business Valuation & Negotiation Lessons from Shark Tank Baker's Edge, Tie-Not, BZBox & Foot Fairy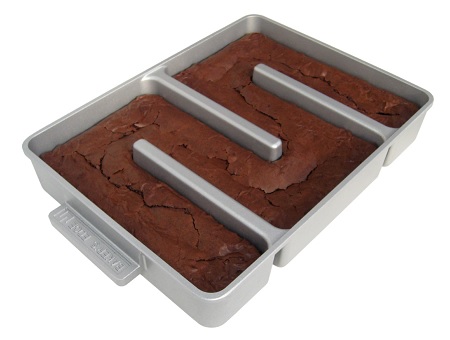 Matthew Griffin & Emily Griffin enter the Shark Tank to pitch their business called Baker's Edge.  The Griffins wanted to take baking to another level, so they created their first product which is a baking pan for brownies that is designed to maximize the 'edge' and 'corner' pieces in a rectangular pan.  As you can see in the image, the design of the pan has an open layout of walls inside to increase surface contact with the brownie being baked to increase the number of pieces with edges and corners.  The Bakers Edge pan is definitely meant for people who enjoy the texture of the edge and corner pieces.  It doesn't stop there though, the Griffins have created two products, one designed for lasagna, and another for muffins.  The Lasagna pan has a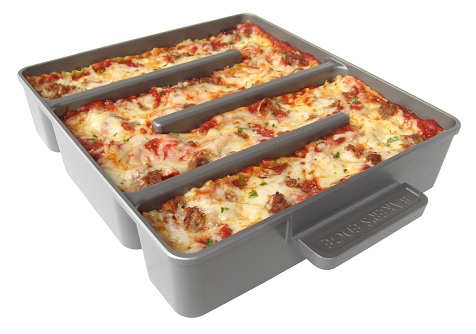 very similar design to the Brownies pan with the snaking walls.  The impetus for the Lasagna pan design was to minimize the lasagna from falling apart after a portion was served.  As servings of lasagna are taken out of the Bakers Edge, the rest of the lasagna doesn't fall apart or sag unlike in the conventional design of an open rectangle.  The Baker's Edge Muffin Pan is designed in a way that uses less metal, and also has less surface area to collect mess.  A great point of pride for the Baker's Edge is there products are made domestically in America.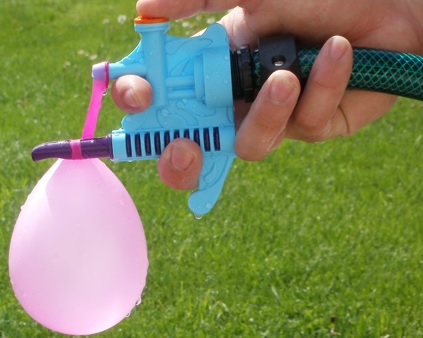 Water balloons are a lot of fun on hot summer days, but filling them easily and conveniently without popping them is a challenge.  In 2010, Wayne Sikorcin came up with a solution and created his business called Tie-Not.  Wayne Sikorcin and Scott Smith appear on Shark Tank together to pitch Tie-Not.  Tie-Not is available as a variety of products.  One of the products is an attachment for garden hoses that easily fits water balloons and has a handy attachment that makes tying the balloons a matter of a simple twist.  Tie-Not also offers a portable 1 gallon filling container that has the balloon nozzle and the easy tying attachment.  The portable filler is known as the Battle Pump as it has a carrying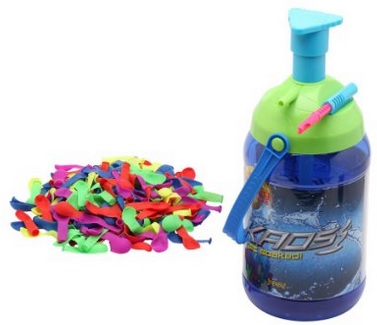 handle so the user can run around quickly filling up to 20 balloons as fast 6 seconds per balloon to chase after targets in rapid fire succession.  The genius behind the Tie-Not is that it allows an experienced user the ability to fill and tie a water balloon under six seconds.  Tie-Not has distribution in retail outlets throughout the continental United States, so they have proven a market for the business.  The gross margins of the products will be an important key to the Sharks' interest in investing in Tie-Not.    Tie-Not has been licensed to a toy company, so let's see what duo pitch the sharks for?  Perhaps, they are looking for more capital to launch their own line of products.
Parents of young children have many demands on their time and energy, so finding a way to simplify their lives will always be a business opportunity.  Dr. Sylvie Shapiro and Nicole Brooks are two mothers from Los Angeles were commiserating over the challenge of sizing babies feet for fit which served as the inspiration for creating the Foot Fairy app.  They developed the Foot Fairy app for use with iPads.  The iPad screen is large enough to place a baby's foot on it, that the app can layout markers on the screen to get foot measurement.  Once the feet are sized, it is easy to shop online via the iPad to buy shoes for the baby.  The app can handle shoe sizes as small as 0.5 infant size up to 13.5 kids size.  The business and app are both called Foot Fairy.  Dr. Sylvie Shapiro also operates two websites dedicated to the shoes.  One is called DrShoeMom.com, which offers recommendations for footwear, and the other is called PlanetFlops.com which retails eco-chic flip flops for children and adults. Nicole Brooks is a licensed Marriage and Family Therapist.  The pair likely have monetized the Foot Fairy app by getting affiliate fees for client referrals through their app when customers are directed to other shoe stores.  This eCommerce business will get interest from Mark Cuban and Robert Herjavec, if the numbers make sense.
College student Kaeya Majmundar from Emory University enters the tank to pitch her invention called the BZBox.  The BZBox is a storage container that folds completely flat for easy storage when not in use.  Majmundar created the design in 2012, and seems to have just recently launched the product for sale via the BZBox website.  The product was not yet for sale when Majmundar filmed her pitch her business to the sharks, so if there is a deal made on the set, then expect it to be for either a royalty or significant equity.  Either way, it is great to see young entrepreneurs getting products to market. In addition to BZBox, Majmundar is developing other businesses, so perhaps a deal will be made similar to the one that was made for Jason Li of iRetron, where the motivation was to invest in a young entrepreneur that planned on creating more products.
Want to read recaps of previous Shark Tank episodes? Click here to see the entire collection episode recaps, all of them with business lessons you can take away from each pitch.
For More information on how Just Elementary, Inc, Business Brokers can help you with Valuation Matters & Negotiation Techniques for your business contact our Client Care Manager Sonia Chhabra at (888) 926-9193 or email cs@justelementary.com
Filed under: Business Tips · Tags: Baker's Edge, BZBox, Foot Fairy, Shark Tank, Tie-Not