Just Elementary, Inc. » Business Tips » Business Valuation & Negotiation Lessons from Shark Tank Spirit Hoods Virtuix Omni Fohawx Bubbas BBQ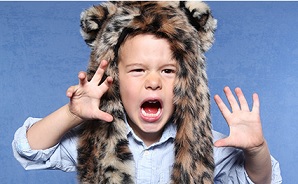 Marley Marotta & Alexander Mendeluk are the duo that will pitch Spirit Hoods to the Shark Tank.  Spirit Hoods are faux fur garments made in the USA.  Spirit Hoods are uniquely designed apparel items that grab attention.  Spirit Hoods is verified on Twitter, so they either have friends in the tech space, or have reached enough notoriety to have garnered that status.  This can be taken as a sign that Spirit Hoods have good strong sales.  We'll find out when Marley Marotta & Alexander Mendeluk pitch the sharks.  Expect to see that Sharks modeling Spirit Hoods on set, which will lead to some good laughs.  Only question is if Marley Marotta & Alexander Mendeluk will be laughing all the way to the bank due to an investment from the Sharks.  Also, Spirit Hoods claims that they donate 10% of net profits to causes that work to protect endangered animals.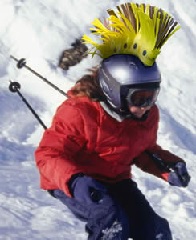 Fohawx are fun accessories for outdoor helmets, such as ski and snowboarding helmets.  Judging by the color of the available Fohawx, Jocelyn Fine and Kelly Dineen are aiming to bring a lot of bright color to the outdoors.  The Fohawx attach to helmets via a self adhesive strip and can be changed out to suit the particular style that a customer is feeling on any given day.  Fohawx was created to satisfy Jocelyn Fine's son who did not want to use a helmet because he thought the helmet was an unappealing look.  Jocelyn Fine's daughter, Maya, was the one who created the prototype by gluing material to her brother's helmet.  From there, Fine and Dineen ran with the idea and created the business they named Fohawx.  Fohawx seems to be limited to a small niche, however, there is potential for licensing, if the concept is proven enough to generate interest for large scale manufacturers.  The gross sales history of Fohawx will help the sharks determine if the business is fit for their investment criteria.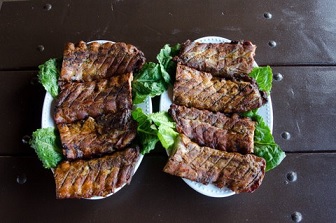 Pitching the Shark Tank are Brittany Baker and is former NFL star Al 'Bubba' Baker from the Cleveland Browns. Their product is an easy to prepare 'Heat and eat" barbeque baby back rib. The Bakers run a restaurant in Avon Ohio. They saw that preparing barbeque baby back ribs was a real pain, so they decided to fix that problem by creating a ready made easy to prepare product. Al 'Bubba Baker has distribution in local grocery stores. Let's see if his model is scalable enough to get the sharks interested.
Virtual Reality is here and only expanding.  Virtuix Omni is being pitched by Jan Goetelvk.  Virtuix Omni is basically a station in which a user can simulate running, jumping in virtually any direction while playing a game.  See the video below to get an idea for yourself.  The idea is very appealing as it combines strenuous physical exercise with a virtual reality gaming experience.
Want to read recaps of previous Shark Tank episodes? Click here to see the entire collection episode recaps, all of them with business lessons you can take away from each pitch.
For More information on how Just Elementary, Inc, Business Brokers can help you with Valuation Matters & Negotiation Techniques for your business contact our Client Care Manager Sonia Chhabra at (888) 926-9193 or email cs@justelementary.com
Filed under: Business Tips · Tags: Bubbas BBQ, Fohawx, Shark Tank, Spirit Hoods, Virtuix Omni