Just Elementary, Inc. » Business Tips, Commercial Leasing, Landlord, Negotiation » Condemnation Clauses for Commercial Leases
The Condemnation clause is an often overlooked clause in negotiating a commercial lease.  Even though it rarely comes in play, it is well worth negotiating just in case to protect the many years of blood, sweat and tears a lessee/business owner has put in to the business.  A condemnation clause dictates how compensation to the property owner is allocated to the tenant(s) at the property in the case that the property is seized via eminent domain or other methods such as purchase by a redevelopment agency.
A few key circumstances where a condemnation clause is critical are if the commercial property is in a known redevelopment area, or in the path of future development and if the property is a single tenant property.  Even if there is a condemnation clause, there is little protection if the lease has expired and the tenancy is on a month to month basis.  A 'holdover' situation on the lease may give you a little bit of protection but check this clause carefully and consult with a legal professional.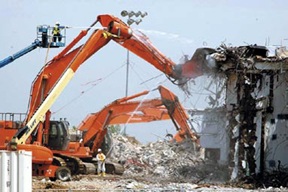 What can you negotiate into your condemnation clause?  One thing would be to negotiate the fair market value (FMV) of the business as the payout.  This would involve keeping good books and records as they are key to getting a proper valuation on your business.  Contact us if interested in getting a Broker's Opinion Value to see where your business stands as of today.  As an alternative to FMV, you can try to negotiate a payoff to cover the expense of relocation.  This applies to non retail businesses that are not as dependent on the location for revenue as a standard retail business would be.
As a tenant, if you don't have a condemnation clause in place, you still have some hope for compensation if you lease term remaining.  If you are forced out of your business before the lease is expired, you will have to be offered some compensation for agreeing to cancel and forgo the remaining time on your lease.  According to Peter C. Wittlin, Real Estate Attorney, a tenant should ensure that lease specifies that the lessee "is to receive a quantifiable portion of the (condemnation/eminent domain) award."
Just watch out for a condemnation clause that says that you are not entitled to anything in case of eminent domain or condemnation.  If you see a clause like that, then make sure to negotiate it out, or look elsewhere.  A clause like this will pull the rug our from under you.  So keep on the lookout for it, before the property you are leasing sees a wrecking ball comes its way and you are left with no compensation.
Here is a interesting story about the complications that arise when redevelopment is going on.  Notice the legal intricacies in the story that illustrate the importance of negotiating leases with professional assistance.
For More information on how Just Elementary, Inc, Commercial brokers can help you with leasing matters, contact our Client Care Manager Sonia Chhabra at (888) 926-9193 or by email cs@justelementary.com
Filed under: Business Tips, Commercial Leasing, Landlord, Negotiation · Tags: commercial, Condemnation Fair Market Value, Eminent Domain, industrial, Lease, lessee, lessor, negotiation, Retail, wrecking ball