Just Elementary, Inc. » Business Tips » Buy a Low Basis (Distressed Assets)
July 22nd, 2010 | Comments Off on Buy a Low Basis (Distressed Assets)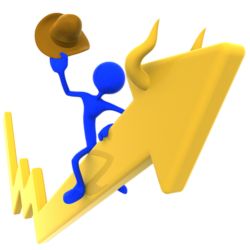 You want to Buy low, so You can be like the Cowboy on the Right and Ride the Market Up to Sell High.
And YES, This is the Market to BUY BUY BUY. If you are a CASH buyer with good credit and a solid track record then banks will talk to you.  Banks are sitting on a LOT of Distressed Assets in their portfolio.  They need to get rid of them as quickly as possible, at about the same speed we want to get rid of migraines.
All Types of Assets from Commercial Real Estate, Residential Investment Properties to Small Businesses are available  If you have the CASH.  Banks want to talk to you.  Of course, they want it to be a quick conversation, along the lines of:
Bank: "Mr. Buyer, do you have the Cash for an all Cash Purchase?'
Mr. Buyer: "Yes, I do."
Banks: "Ok, wire the money by tomorrow with no more questions asked and it's yours"
So, be prepared to jump in right away without any prolonged Due Diligence.  Thus, do your Homework Quickly to ascertain the value of the Distressed Asset you are looking to buy.  You don't want to get stuck with a bad investment, so stick with investments that you know and understand well.
And then, be prepared for the long haul, it doesn't look to be shaping up to be a quick economic recovery, so you will part with your cash and have to hold for a while. But, like they say, timing is everything, BUY LOW so one day you can Sell High! Obviously, your IRR, Internal Rate of Return promises to be higher as your Basis is lower. A Low Basis is a good thing.
For More information on how Just Elementary, Inc, Commercial brokers can help you with small business needs, email cs@justelementary.com or call (323) 213-9193
Filed under: Business Tips · Tags: Assets, Banks, Basis, Buying, Distressed Assets
© 2020 Just Elementary, Inc.