Just Elementary, Inc. » Business Opportunity For Sale, Franchises » Straw Hat Pizza Location For Sale in City of Orange California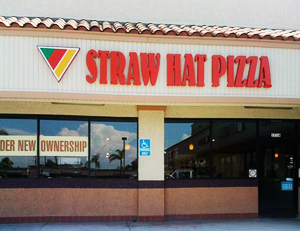 Attention Bargain Hunters! Hot off the presses, or more like, fresh from the oven, is an Asset Sale opportunity for a Straw Hat Pizza unit in the City of Orange in Southern California.
The unit is in possession of Straw Hat Restaurants, Inc. the Corporate entity of the Franchisor.
The unit just closed down for business, and is being offered at $10,000 plus Franchise Agreement Fee of $35,000.
This is a Fully built out restaurant space that is ready to be reopened by a new buyer.
Store Highlights:
Approximately 4,000 square feet.
UCI Hospital, CHOC Children's Hospital of Orange County, Western Medical Center – Santa Ana, Kindred Hospital, and Garden Grove Hospital are all near the store.
Hospitals make great catering customers for other Straw Hat Pizza Restaurants in other locations.
Also Chapman University, Angels Stadium, Westfield MainPlace mall and the Block At Orange are all nearby.
There is potential galore for catering accounts too supplement in store dining customers.
This is much less than the cost to build a new restaurant, and much quicker to open, since it is a re-opening.
This is a rush sale, so if you are interested, call our Client Care Manager, Sonia Chhabra at (888) 926-9193 or email cs@justelementary.com
Filed under: Business Opportunity For Sale, Franchises · Tags: CA, Catering Business For Sale, Chapman University, Children's Hospital of Orange County, CHOC, Hospitals, Orange, second generation space, Straw Hat Pizza For Sale, UCI Medical Center