Just Elementary, Inc. » Business Tips » Business Models & Business Valuation Lessons from Shark Tank
The Shark Tank update segment will feature the Voyage-Air Guitar.  Voyage-Air Guitar is a guitar designed to alleviate travel headaches.  That is because the Voyage-Air Guitar is a foldable guitar that makes traveling through airports, bus stations and other transit stops a LOT easier.  Concerned about the quality of the folding guitar from Voyage-Air Guitar?  Well, it is highly rated by musicians.   Steve Cohen is the entrepreneur behind Voyage-Air Guitar.  While Steve Cohen walked away from his appearance on the Shark Tank  set without a deal, the important to keep in mind is that the Sharks have the ability to get the contact  information for the entreprenuers that appear and continue negotiations if they are interested.  Kevin O'Leary's interest in Voyage-Air Guitar was strong enough that he did not want to let the deal go.  Congratulations for Steve Cohen making a deal with Kevin O'Leary for Voyage-Air Guitar.  Lesson Learned Here is that a deal is not necessarily dead upon the initial conclusion of unsuccessful negotiations.  Stay persistent, and be willing to accept fair terms if you really believe in a product.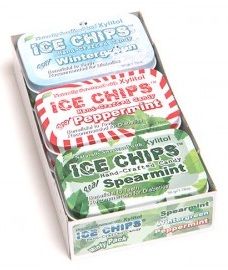 Last into the Shark Tank were Beverly Vines-Haines & Charlotte Clary of Ice Chips Candy. Ice Chips Candy is a sugar free alternative mint candy. Ice Chips Candy use Xylitol, which is an alternative to sugar. The candies were tasty and the Sharks all liked the business, especially after hearing that current year sales were projecting to close to $1 Million Dollars. Beverly Vines-Haines & Charlotte Clary of Ice Chips Candy had proven their business chops by building up the company's sales and setting up distribution. They wanted a capital investment of $250,000 for 15% equity (a $1,666,667 Business Valuation). All of the sharks were interested to invest in the Ice Chips Candy business and as such a bidding war ensued. As has been written before, having multiple bidders affords the the pitching party Negotiation Leverage, which can be used to secure favorable terms. In this case Beverly Vines-Haines & Charlotte Clary of Ice Chips Candy used their negotiation leverage to choose the investors they wanted to bring aboard. The final offers came down to Daymond John at $250,000 for 25% Equity ($1,000,000 Business Valuation) and a combination offer from Mark Cuban and Barbara Corcoran for $250,000 for 40% equity ($625,000 Valuation). That is $375,000 Difference. Beverly Vines-Haines & Charlotte Clary HAD negotiation leverage with TWO very interested bidding parties for Ice Chips Candy. But, they chose to partner with Mark Cuban and Barbara Corcoran without countering their offer. Thus they determined that Mark Cuban and Barbara Corcoran were such good strategic partners for them that they were willing to Chop $375,000 off their business valuation of Ice Chips Candy to get them aboard.
Lesson Learned here is that it isn't always the most money that matters from an investor, but the other intangibles they bring including relationship synergy. Was it worth $375,000? Only time will tell, if Ice Chips Candy continues to gain significant market share along with profitability.
First into the Shark was Drew Beaumier, who was the creator of the the Drive Suits.  Drive Suits are wearable motorized recreational costumes that allow the wearer to become a Transformer, just like the cartoon and movie franchise.  A video will do it the best justice, so look below, and see for yourself.
Drew Beaumier was asking for a $750,000 Business Valuation ($150,000 for 20% equity).  At the time of taping, Drew Beaumier had not sold any Drive Suits, but had been winning contest prize money and had been doing private parties.  The crux of the segment boiled down to the fact that Mark Cuban and Kevin O'Leary were interested in the business and made offers that were diametrically opposite to each other.  Kevin O'Leary wanted to take the business model and license it to a large toy manufacturer and get a 5-7% royalty on each unit sold.  Mark Cuban wanted to fund the company to create manufacturing capacity and grow the business organically.  Given that Drew Beaumier was very early with Drive Suits as a business, it was interesting that Mark Cuban was willing to fund the business to foster slow, organic growth, as that would lead to not getting a quick return on the investment.  However, it does allow for more control of the business, versus licensing out the concept.  This was a classic choice between taking the money and building the business.  Drew Beaumier chose the quickest path to money for Drive Suits and chose Kevin O'Leary's deal.  It doesn't seem like Kevin O'Leary was successful in licensing Drive Suits, as the Drive Suits website indicates that Drew Beaumier is open to getting hired for video production gigs.  If there was a strong investment in place, then Drew Beaumier would be full time into the business.
Lesson Learned here is that you have to choose between fast money (licensing) and building a company/legacy by doing it 'in house' as Mark Cuban's offer was laid out.  Decide in advance of starting negotiations, so you can clearly negotiate to your desired outcome.  

Second into the Shark Tank was David A. Cox of PC Classes Online. David A. Cox targets PC Classes Online to computer users that 50 years and older in age.  The business model David A. Cox has for  PC Classes Online is a subscription based revenue model.  Users buy annual subscriptions.  You can learn more about the product on the PC Classes Online website.  The big lesson from this segment was the fact that the business model was not one that any of the Sharks wanted to invest in.  Why was this?  The Sharks cited that the online classes were not unique and not a new idea.  While this is true, it is also true that David A. Cox had established a client base for PC Classes Online which had generated Gross Revenues.  So while it might have been too small of a business in a mature industry doesn't make it a bad business.
Lesson Learned, business in mature industries are NOT going to get major VC Funding UNLESS they are disruptive technologies.  

This segues us to the next business into the Shark Tank which was Bill Lyons' Revestor.  Revestor is a subscription based website that allows users to search for Real Estate for sale, BUT, with the added twist of some basic analysis of financials.  This added twist is the added value proposition, which is what has Bill Lyons excited, as he feels that it disrupt the stodgy business model of searching for property online.  Again, like in the segment for PC Classes online, the business model for Bill Lyons' Revestor was too small for the Sharks to invest in.  Ultimately, the Sharks felt this product has potential to be  a viable revenue generator, they did note feel it to be a disruptive product.
Lesson Learned, business in mature industries are NOT going to get major VC Funding UNLESS they are disruptive technologies.  
Curious about what you can do to increase the value of your business, read and/or watch the video in this post for what we have come across in marketing businesses for sale.
Want to read recaps of previous Shark Tank episodes? Click here to see the entire collection episode recaps, all of them with business lessons you can take away from each pitch.
For More information on how Just Elementary, Inc, Business Brokers can help you with Valuation Matters & Negotiation Techniques for your business contact our Client Care Manager Sonia Chhabra at (888) 926-9193 or email cs@justelementary.com
Filed under: Business Tips · Tags: Barbara Corcoran, Bill Lyons, Brian Beaumier, David A. Cox, Daymond John, Drive Suits, Ice Chips Candy, Kevin O'Leary, Mark Cuban, PC Online Classes, Revestor, Shark Tank