Just Elementary, Inc. » Business Opportunity For Sale » C-29 Concrete & Masonry and Type B General Builders Contractor Licenses for Sale with a Business
C-29 Concrete/Masonry & Type B General Builder's Contractor Licenses and Business for Sale
Absentee  Run: The owner has been disabled since 2009.  Since then he has solely been involved in a peripheral supervisorial role.
2011 Gross Sales From January 1 to October 4, 2011 are $170,558, which annualizes to just about $227,000 for the year.  The SDE from January 1 through October 4, 2011 is approximately $58,000, which annualizes to approximately $77,000.  This is with the owner being involved only in marginal supervision.  The owner has not been involved in any physical labor since 2009.
This is a long established Concrete and masonry contracting business for sale. It has been in business for over 30 years, during which time it has established itself as a go to concrete subcontractor due to the quality of work performed.
Key highlight is that it is run mostly absentee. The owner is ready and willing to train and mentor a buyer. For an established buyer, the owner is willing to help facilitate customer retention to maximize the smoothness of a transition.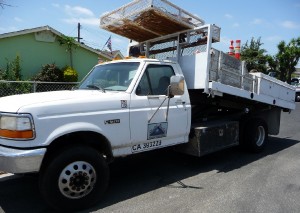 Another key highlight is that the business is well equipped to service all of its current customers, including a truck outfitted with a dump. Full equipment list is available upon request.
Currently staffed with One (1) Full Time employee, and Ten (10) On Call workers. This business is run by the book, those on call workers that can qualify legally as subcontractors get paid as subcontractors. The rest are put on payroll as needed.
This is a tip top business, run by a tip top individual. The owner is willing to assist and train for at least Nine (9) weeks included in the purchase price.
Additional images available of tools.
The business has a C-29 Contractor's license along with a B General Building Contractor's license.  These are corporate licenses that are transferable.
The business services HOAs of large residential developments and for QSR businesses such as fast casual mexican restaurants such as Rubios and coffee/tea/bagel stores such as Coffee Bean and Tea Leaf.
The owner has not done physical work since 2009. Now simply supervises his business. Motivated seller, make an offer.
For more information about how Just Elementary Inc. can help you with buying a California Contractor Licensed business such as the one highlighted in this post, please contact our Client Care Manager, Sonia Chhabra, at (888) 926-9193 or by email cs@justelementary.com
Filed under: Business Opportunity For Sale · Tags: absentee operated business, Anaheim, Buena Park, Business For Sale, C-29 Concrete Masonry, CA, California Contractor's Licenses For Sale, Stanton, Type B California Contractors License General Builders