Just Elementary, Inc. » Business Tips » Keys to Getting Investor Money & Investments on Shark Tank
This episode features the return of Lori Greiner to the Shark Tank, as she will alternate with Barbara Corcoran in Season 4 episodes.
First into the Shark Tank was Back 9 Dips.  Back 9 Dips is the brainchild of Dominique & Kevin Mealy.  Dominique & Kevin Mealy product is a collection of blended chicken dips that you can find in grocery stores like Publix and Winn Dixie.  The business wasn't big at the time of taping, and as such, the Sharks did not demonstrate 

strong interest.  The Mealy's were asking for $150,000 in exchange for 15% equity in the company, a One Million Dollar Business Valuation.  None of the Sharks are very experienced in the food space, especially for a company that is still early in the distribution process.   However, Lori Greiner & Robert Herjavec were willing to make a deal for the company because they believed in Dominique & Kevin Mealy.  But they didn't invest in the business because The Mealy's are nice people.  They invested in the the Mealy's because they had built the company and were getting it done.  The Shark Tank show is littered with very likeable people who did NOT get a deal, because they weren't personally built up enough to make a business succeed.
Lesson from this segment is get your act together and have all aspects of your business functioning well before you'll get serious investment offers.  

Second into the Shark Tank was Marvin Phillips, a former professional football player who was on the set to pitch his Lifter Hamper.  Lifter Hamper is a hamper that 'springs' up as clothes are removed, so the bottom of the hamper rises, which makes taking clothes out of it easier, due to minimized bending.   Marvin Phillips was pretty far along in the development process at the time of taping, however, it wasn't far enough along for the Sharks to get interested.   Just like the Mealy's Marvin Phillips was very well liked by the Sharks, but he did not get an investment on the show.  Why, simply put, he wasn't far along enough in the process.  He had  not gotten distribution, unlike the Mealy's who had a distribution agreement in place with a grocery in Florida.
Lesson from this segment is the same as the one from the Back 9 Dips segment, have a fully operational business to get investor money.  Simply put, Investors are too busy with their other businesses to help you FIX and Operate your business.   The analogy would the investor wants to hit the gas pedal to accelerate the business, but if the business has a problem like wheel alignment, the car will run off the road, and the investment will be lost.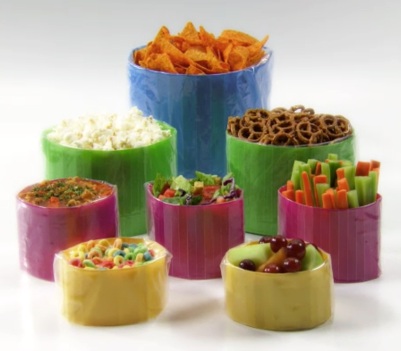 Ever had food in a zippered bag and tried to serve it at a picnic?  The bags are a pain to keep flat, though it looks like BagBowl has solved that problem.   Brian and Kevin Fleming were on the show to pitch the BagBowl.  The idea behind BagBowl is simple, it is an exo-skeletal frame that is easy to wrap a zippered bag around, as you can see in the image.   Brian and Kevin Fleming were at a 'Pre Revenue Start Up' stage, which meant that they had not had any sales at the time of taping.  Lori Greiner & Robert Herjavec were both interested, and the Fleming's ended up making a verbal deal with  Lori Greiner, which makes a lot of sense, since she can sell the product via her QVC connections.  What is interesting to see is if,  Lori Greiner finalized a deal with Fleming's for  BagBowl.  It is certainly possible that Lori Greiner and The Fleming's did not finalize a deal, because Greiner might have decided during Due Diligence that the product wasn't strong enough to add to her portfolio.
A different tack on the Lesson from this segment would be to remember that investors don't want to hear that you want them to Bring all of the Value to the table, in the form of their connections, their time, their discipline, their hand holding of you.  They want to invest in self-starters who they know have a proven track record of getting it done.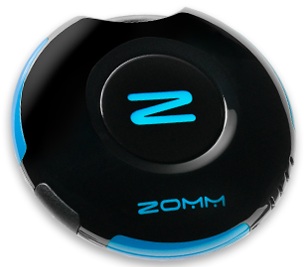 The final segment of Shark Tank featured the ZOMM, a handy Bluetooth Device for mobile phones.  ZOMM was an award winner at the 2010 CES.  ZOMM was created by Henry Penix.  The device currently comes in three different color schemes and had demostrated significant sales, including a projected 7.2 Million Dollars in 2012, with a projected profit of 2 Million Dollars.  However, a problem in Cash Flow Management was quickly revealed.  If a business is so profitable, why would it need an outside cash investment?  Many reasons can eat into cash flow, but in this case it was clear that efforts to scale the sales of the product involved adding overhead that did not pay for itself in the form of additional payroll expense.  Also, Research and Development costs of a next generation product of the ZOMM.  What this indicated is ultimately a Mismanagement of Cash Flow.  This is a cardinal sin to investors, as they don't want the money they invest to go down in flames either.  No deal for Henry Penix for ZOMM.
Lesson from this segment is clear.  Master and Monitor the cash flow of your business to control expenses and budget for sustainable growth.  Watch out for leaks in your cash flow, because if the boat has sprung a leak, don't expect serious investors to sink money into it.
Curious how much your business is worth, Just Elementary, Inc, Business Brokers can help you with Valuation Matters.  We can also help you with Negotiation Techniques for your business when dealing with investors.  Contact our Client Care Manager Sonia Chhabra at  (888) 926-9193 or email cs@justelementary.com
Filed under: Business Tips · Tags: Back 9 Dips, BagBowl, Blended Chicken, Business Valuation, Lifter Hamper, Lori Greiner, Shark Tank, ZOMM