Just Elementary, Inc. » Franchises » Marketing Genius behind Menchies Frozen Yogurt Franchises Frozen Yougurt Stores
As you may be aware, Frozen Yogurt is a competitive industry.  There are many brands out there from PinkBerry, Cherry On Top, Yogurtland, Golden Spoon and more including the countless independent brands that are out there.  So standing out from the competition is vital for success.  It was previously discussed how Menchie's Frozen Yogurt brands themselves to stand out, and how they utilize a unique store design to streamline operations.  This article will discuss the marketing efforts of Menchie's corporate.

Let's look at past example of marketing that Menchie's has implemented.  During March and April, there was a Waffle Madness program that coincided with the NCAA College Basketball Tournament.  This was a promotion where there was no additional charge for a waffle bowl, though still charge for the additional weight of the bowl.  This was Menchie's capitalizing on a seasonal event by encouraging consumers to try the waffle bowls at a discount.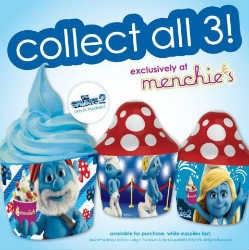 Also, during the summer there was a cross promotion with the release of the Smurfs 2 movie.  Menchie's stores had a special flavor that coincided with the Smurfs theme.  Also, there were TV and Radio commercials for Menchie's Frozen Yogurt that featured the Smurfs in them.  And, of course, Menchie's stores had special Smurfs related decor.  In addition to that were three different collectible bowls with Smurfs decors on them, that also had accompanying Smurfs themed lids that were in the shape of Smurfs hut covers.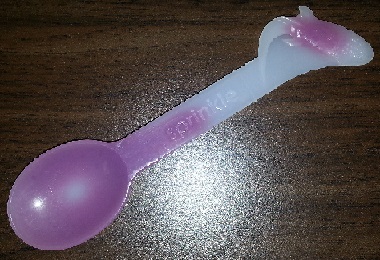 In October of 2013, Menchie's Frozen Yogurt is offering spoons that change colors with varying temperatures.   The spoon to the left is a spoon that turns purple in the parts that have been cooled.  Put the entire spoon in a freezer or refrigerator, and the entire spoon will turn purple.  The other colors available are blue, orange, green, and pink.  This is Another example of giving children something new to look forward to when they go to Menchie's.  As discussed in the Menchie's branding article, getting children to become brand advocates is important in directing a family's discretionary income to be spent with the subject brand instead of the competition.  Obviously, during October there is a Pumpkin flavored Frozen Yogurt being offered.
All this timely marketing leads to generating a newness to experience of eating at a Menchie's, aside from just seasonal flavors.  Keeping things fresh and new is an effective way to retain and maintain customer loyalty and interest.
For additional information about investing in a franchise business including, but not limited to, Menchie's contact our Client Care Manager Sonia Chhabra at (888) 926-9193 or email cs@justelementary.com 
Just Elementary, Inc. is an independent company.   It's important to choose the right franchise business to invest in that fits your life situation and investment goals.
Additional posts about Menchie's Frozen Yogurt Design & Layout and a post on the branding philosophy used by Menchie's.
Filed under: Franchises · Tags: Franchise Investment, Franchising, marketing, Menchie's Frozen Yogurt, QSR