Just Elementary, Inc. » Business Tips » Negotiation & Business Valuation Lessons from Shark Tank Revo Lights, Squeeky Knees, U-Lace, Buffer Bit, Kazam Update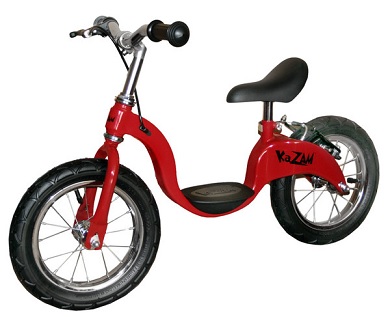 Getting an update segment in the Shark Tank is Mary Beth Lugo who pitched a line of training bicycles called KaZAM training bikes.  Mary Beth Lugo scored a deal from Mark Cuban and Barbara Corcoran.  Cuban and Corcoran have invested in another bicycle business called Villy Customs.  Corcoran is a noted enthusiast of bicycles.  Anyhow, expect to see good news with the business, which was already very successful to begin with.  As a refresher, KaZAM training bikes are designed for children between the ages of 3 and 6, and the feature that sets Kazam bikes apart from other kids' bikes is that they do not have any pedals!  Nor do Kazam bikes have any training wheels? So how are children supposed to learn how to ride a bicycle using KaZAM training bikes?  Watch the video to see example of children riding KaZAM training bikes.
Continuing with the bicycle theme is Revo Lights. Riding bicycles at night in the dark can be very dangerous as passing cars can be a serious hazard.  There are the common accessories, such as wearable lights that blinks and reflective panels.  However, co-founders Kent Frankovich and Adam Pettler and their team at Revo Lights wants to change that.  As you can see in the image, the bikes using Revo Lights are going to incredibly visible to cars and pedestrians in the dark of night.  This is helpful for safety, but also an incredibly cool looking way to do it.  Almost like Tron bikes.  Revo Lights are replacement wheels for bicycles, specifically for road bikes with 700c or 27 inch wheels.  Currently, the lights are powered by a rechargeable battery on a charge that lasts up to 4 hours.  Revo Lights are sold in North America and is select European countries.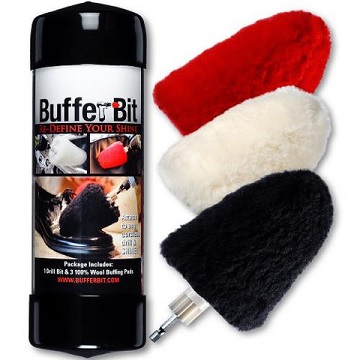 Buffing shoes either involves stopping at a shoe shine station, or doing it manually yourself.  To make doing it yourself more appealing is Michael Quinn.  Quinn is the entrepreneur behind the Buffer Bit.  The Buffer Bit is a tool that can operated with any kind of drill that uses drill bits.  The Buffer Bit is an alternative to having to buy a dedicated shoe buffing machine, which typically cost a lot more than the Buffer Bit, and they also take up more space than the Buffer Bit.  Aside from being usable on shoes, the Buffer Bit can be used on cars, boats, wheels, aluminum, chrome and more.  The Buffer Bit is a simple concept to understand, which makes it easy to market visually, so expect to see Lori Greiner interested if the numbers make sense.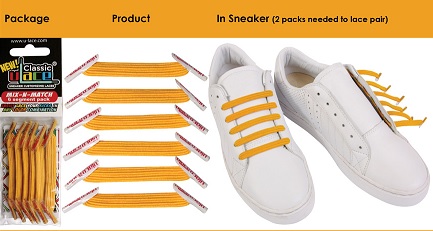 Tim Talley enters the Shark Tank from Rochester, New York to pitch his his colorful product called U-Lace.  U-Lace's are an incredibly handy way to change the look of shoes, by having a different lace combination.  The trick is to make changing the laces as simple of a process as possible and Talley has figured out a way to do it.   It involves a simple hook system that allows the laces to changed in the matter of a few seconds.  What this means is that customers can customize their looks on a daily basis if they wish to go with different outfits.  U-Lace is sold in 40 different countries according to the U-Lace website.  It is quite popular in fashion forward places like France and Japan.  Given that the product is sold internationally, expect to see decent revenue figures, let's just see if the profitability is enough to get the Sharks interested, and then if the business model for U-Lace makes sense for an investment.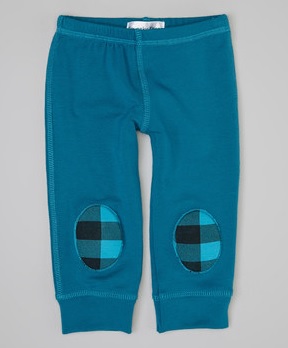 In an emotional segment are Ivan Barnes and Lisa Evans, who pitch the shark tank on their apparel for crawling babies called Squeeky Knees.  For babies that crawl, crawling on hard surfaces doesn't seem very comfortable, so a way to help with that is to have a line of clothing with built in knee pads.  They were unable to find any clothes for crawling babies, so they decided to create their own line and launched their business in 2009.  Squeeky Knees are made in the USA, with the company being based in the greater Los Angeles area in Southern California.  Aside from offering cushioning for knees and shins, the knee pads emit a squeaking sound, which adds some fun to the crawling experience.  It also adds an important safety feature, in that it serves as an audible alert that the crawling baby is on the move, so the caregiver is alerted to keep track of the crawler.
Want to read recaps of previous Shark Tank episodes? Click here to see the entire collection episode recaps, all of them with business lessons you can take away from each pitch.
Curious how much your business is worth, Just Elementary, Inc, Business Brokers can help you with Valuation Matters. We can also help you with Negotiation Techniques for your business when dealing with investors. Contact our Client Care Manager Sonia Chhabra at (888) 926-9193 or email cs@justelementary.com
Filed under: Business Tips · Tags: Buffer Bit, KaZAM Training Bikes, Revo Lights, Shark Tank, Squeeky Knees, U-Lace