Just Elementary, Inc. » Business Tips » Shark Tank Business Valuation & Negotiation Lessons GOBIE H2O Root Suit Liddup The Coop LA Echo Valley Meats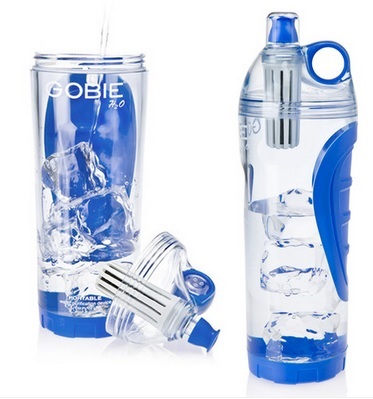 Do you prefer to avoid bottle water to reduce your consumption of plastic or other reasons, but dislike the taste of tap water?  If the answer is yes, then you will be interested in checking out the GOBIE H2O's filtered water bottle.   GOBIE H2O was pitched last in the Shark Tank by Rusty Allen from San Diego, California.  GOBIE H2O's bottles use an active carbon filter to remove the unpleasant chlorine taste and odor from your local tap water source.  GOBIE H2O filtered water bottles are not designed to be used with untreated water sources such as lakes and rivers.  The activated carbon filters in the GOBIE H2O's filtered water bottles are designed to be used for 3 months or up to 100 gallons of water filtered and designed to meet NSF-Standard 42.  Replaceable filters will come in handy for folks who like to keep their GOBIE H2O fresh.  The GOBIE H2O filtered water bottles are as expected BPA free.  All of the sharks except for Daymond John were out on GOBIE H2O, because they felt that market for filtered water bottles was too competitive for their liking, since they felt that their return on investment would take too long.  Daymond John offered $300,000 for 40% equity, which translates to a Business Valuation of $750,000.  This was a 75% less than what Rusty Allen came in asking for GOBIE H2O, which was $3,000,000 ($300,000 for 10% equity).   One lesson from this segment is to remember that negotiating equity percentage does not directly correlate to the percentage discount on the valuation.  In this example giving away an additional 30% equity resulted in a 75% reduction in the business valuation.  This is important to remember when negotiating equity.  To read a clearer example of how negotiating equity is not a 1 to 1 ratio on the effect on the valuation, read the segment on Talbott Teas in this article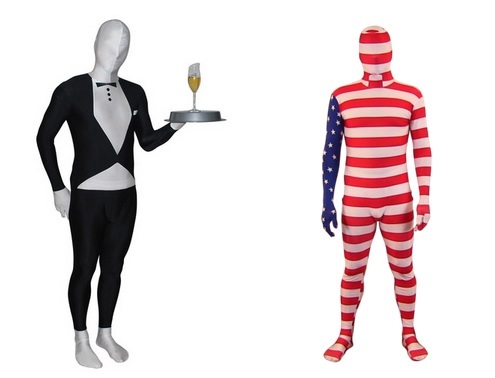 Love your sports team with undying loyalty?  Or just love having some off the wall wacky fun.  Then the Root Suit just might be for you and your friends.  Colinn Grussing from New Orleans, Louisiana was third in the Shark Tank to pitch his  Root Suit.  The Root Suit is a full body spandex suit designed for fun and hijinx.  You may have even seen a group of people running about town in Root Suits.  Root Suits come in most colors that correspond to sports team colors, but th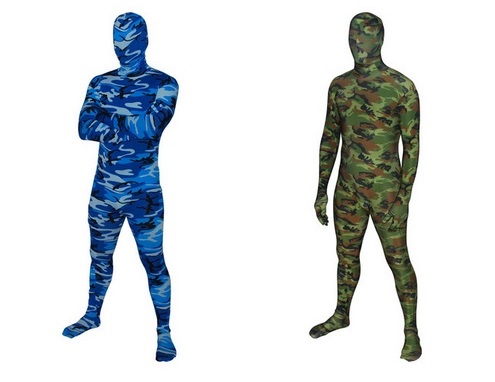 ey also come along in whimsical prints, such as the Full Body Tuxedo Root Suit, The Full Body American Flag Root Suit, Spider-Man Full Body Root Suit and Full Body Camouflage Root Suit.  Just like the GOBIE H2O water filtered water bottle, the Root Suit had established sales and distribution.  Root Suit had sold approximately $500,000 in sales and profit of approximately $140,000.  So, the Sharks first concerns with any pitch were answered, and that is there are sales and they were profitable.  However, the Sharks were concerned about the knock off competitors that Root Suit was facing in the marketplace.   Competition is okay if there is a way to brand the product and differentiate it from the Knock Offs.  Colin Grussing had not found a way to brand and differentiate Root Suits, so the Sharks were all out.  Except for Daymond John.  As an apparel item, Root Suit is definitely a product that he could bring value to.  However, Daymond John was very clear that he would not to invest a lot of time to help Root Suit carve a niche in the marketplace.  As such, his offer was for 50% equity.  Colin Grussing was pleased to get an offer, but he was indecisive about whether or not to take it, or to counter it.  Daymond John eventually withdrew his offer for Root Suit.  The common takeaway lesson from this segment is that he should have acted decisively, which is a valid point.  However, another lesson from this segment is that if an investor is already on the fence, expect that there is a great likelihood that they will back out during due diligence anyway.  Good news for Colin Grussing is that Root Suit is already a profitable business, and that Mark Cuban was most likely correct in saying that Grussing didn't need any partners for Root Suit.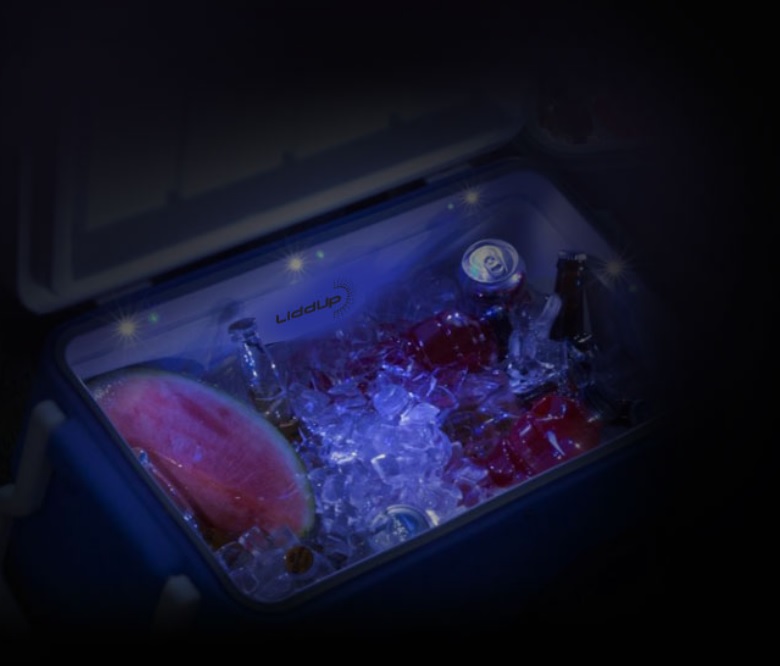 Have you ever been in the woods looking for something in your cooler, but it has been too dark out too see what is in your cooler?  That problem will be solved by Jayson Sandberg's Liddup Cooler.  Liddup Cooler was pitched first in the Shark Tank by Talyor Gwiazdon & Jayson Sandberg. Liddup is not yet on the market, but based on the company website, it seems like it will be hitting the market in the summer of 2013.  A Liddup can be 'pre ordered' via their page on Kickstarter.com.  Jayson Sandberg's Liddup coolers use built in LED lighting to illuminate the contents of the cooler at night.  The advantage of using LEDs is that they don't generate significant heat, which works against the purpose of a cooler, which is to keep beverages and other items cool.  Will the sharks be interested in partnering with Jayson Sandberg on the Liddup Cooler.   Like we saw in the previous episode with the Drop Stop, necessity is the mother of all investion as Jayson Sandberg grew frustrated with his experience dealing with coolers in the dark and created the Liddup.  In the segment it became apparent that the portable cooler field is dominated by a few large manufacturers and that Talyor Gwiazdon & Jayson Sandberg had a licensing deal in mind.  Naturally, a licensing play is exactly what had Kevin O'Leary interested in Liddup.  But, Robert Herjavec was also interested in Liddup because he had a friend connected in the industry.  O'Leary made an offer for only 33% of royalty payments if they were successful in licensing the intellectual property in Liddup.  Herjavec wanted equity with his offer for Liddup.  Herjavec said he could bring value because he had a friend in the industry who could plug them in with the largest manufacturers in the space.  Talyor Gwiazdon & Jayson Sandberg were forced to go with O'Leary after their momentary indecision caused Herjavec to withdraw his offer for Liddup.  Lesson Learned here, is to keep multiple offers on the table to keep the negotiation leverage in your hands.  Since Talyor Gwiazdon & Jayson Sandberg were down to one offer from O'Leary only they had no standing to counter offer him for a lower portion of the royalties.

Dave Alwan of Echo Valley Meats pitched the Sharks his gourmet meat business in the third segment of the show.  Dave Alwan is a third generation farmer, who oversees his retail and meat processing plant in Bartonville Illinois.  Pursuing a gourmet market means operating in a space with higher margins, however, Alwan deliberately chose to price his premium meat lower than other premium meat vendors.  This lower pricing was one factor that lead to Echo Valley Meats have a EBITDA only slightly in the black.   The good news for Echo Valley Meats was that the company had very little debt.  However, for the Sharks, the lack of significant profitability was an issue that they could not overcome.  The fact is that even though the business was just fine, as Dave Alwan was drawing a salary, debt free, and profitable (if, ever so slightly), there just wasn't enough meat on the bone in terms of left over profit for the Sharks or any other investors to generate a return on their money.  Lesson Learned, Investors need to have significant EBITDA to know that they will get a return on their money.  That doesn't make Echo Valley Meats a bad business, as it is still viable and successful for Dave Alwan, it just makes it hard for investors to get involved.  Dave Alwan is going to have to continue growing it himself.  Fortunately, some National TV Exposure will help Dave Alwan generate some increased brand awareness and revenues for Echo Valley Meats, especially since he came across as a very likeable person.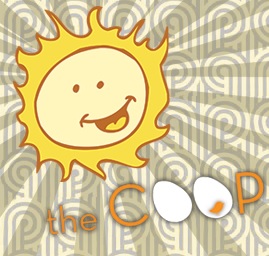 The Shark Tank Update segment featured Juliet Boydstun and Lucinda Lent's business called The Coop LA.  The Coop LA was a business that Barbara Corcoran invested in.  The Coop LA is a high end party space for children, with a location in Studio City California.  One of the aspects of the business that the partners of The Coop LA wanted to grow was their portable party packs.  Juliet Boydstun and Lucinda Lent had started to sell their The Coop LA portable party packs, which had helped fuel growth in the business.  These The Coop LA portable party packs are shippable crates that have supplies for folks to use at their venue to dress it up and theme their party themselves.  Also, the duo  had received franchising requests and had plans to open an additional location in the Los Angeles area.  Seems like Barbara Corcoran's investment in The Coop LA has helped it grow and will turn out to be a net positive.
Want to read recaps of previous Shark Tank episodes? Click here to see the entire collection episode recaps, all of them with business lessons you can take away from each pitch.
For More information on how Just Elementary, Inc, Business Brokers can help you with Valuation Matters & Negotiation Techniques for your business contact our Client Care Manager Sonia Chhabra at (888) 926-9193 or email cs@justelementary.com
Filed under: Business Tips · Tags: Echo Valley Meats, Gobie H2O, Liddup, Root Suit, Shark Tank, The Coop LA