Just Elementary, Inc. » Business Tips » Xero Shoes Interview with Steven Sashen after appearing on Shark Tank
Steven Sashen of Xero Shoes was kind enough to answer a few questions about Xero Shoes and the experience he and Lena Phoenix had and have with Shark Tank.
JE: How has Shark Tank benefited Xero Shoes?
Steven: It's been a huge benefit to the business in terms of making money.  It's also helped with the recognition of Xero Shoes which has led to connecting Xero Shoes to key contacts that have been helpful with growing the business.  It's also helped with Vendors taking Xero Shoes seriously.  Since the Shark Tank episode featuring Xero Shoes aired, vendors have offered helpful suggestions for development and manufacturing and also suggested possible new produ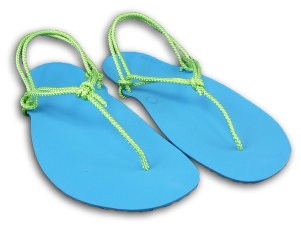 cts for Xero Shoes to carry.
JE: How did the initial appearance on Shark Tank affect sales?
Steven: The week after the show aired, we did about 3 months worth of sales, so there was a massive spike.  Obviously, the spike leveled off, but we have been able to maintain an increase in sales from the periods prior to airing on Shark Tank.  As Xero Shoes has grown, we've had the need for increased space and as such are planning on moving in to a space that is double in size to what Xero Shoes is in currently.
JE: How long was your pitch to the Sharks and how do you feel the Shark Tank segment portrayed you, Lena and Xero Shoes?
Steven: We believe we were on the set pitching the business between 30-45 minutes, which was edited down to approximately 6 minutes.  We're happy with the way the segment was edited and how Xero Shoes was portrayed.
JE: Any other things you'd like to comment on regarding your experience being an alumni entrepreneur of Shark Tank:
Steven: Couple of interesting things when talking to other business people about the show.
#1  Some people choose to not even submit an application or audition based on some potential reason of concern.  Why not apply and wrestle with the decision to agree to appear if the casting department is even actually interested.
#2.  When people seem unaware of what investors like the sharks are looking for in entrepreneurs and businesses to invest in.  They don't think to cover aspects like the plans for growth, plans to reduce costs, revenue and profit history and how they plan to generate a return on the investors' money.
JE: Any new products in the works for Xero Shoes?
Steven: There are new things in the works for Xero Shoes, but based on my experience in the product development business, if it isn't in hand yet, it's too early to discuss.  Be on the lookout in the next few months for new Xero Shoes products.
JE: Describe Xero Shoes to people unfamiliar with the products:
Steven: They are a way to experience the benefits of barefoot running with a layer of protection.   People use them for yoga, camping, kayaking, running, jogging, hiking, ultra marathoning and more.  Over 35,000 pairs have been sold in about 90 countries.  Xero Shoes offers a 5,000 mile warranty.
Want to read recaps of business lessons from  Shark Tank episodes? Click here to see the entire collection episode recaps, all of them with business lessons you can take away from each pitch.
For More information on how Just Elementary, Inc, Business Brokers can help you with Valuation Matters & Negotiation Techniques for your business contact our Client Care Manager Sonia Chhabra at (888) 926-9193 or email cs@justelementary.com
Filed under: Business Tips · Tags: Shark Tank, Steven Sashen, Xero Shoes